Split Ring Timber Connectors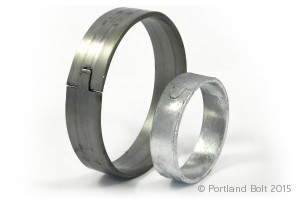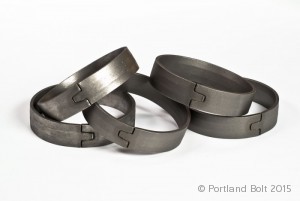 Available in 2-1/2″ and 4″ diameters, split rings are used primarily in the assembly of clear span wood trusses for spans ranging from 20′ to 250′. Placed in specially made grooves in overlapping members, the rings develop maximum strength in the joints by distributing the stress over a greater area. The Split Ring provides for a tight-fitting joint when the ring is fully seated in the conforming groove. Generally, the 2-1/2″ diameter ring is used for lighter trusses and trussed rafters utilizing 2″ lumber; the 4″ diameter ring is used for heavier trusses using 3″ and heavier material.
Split Ring Dimensions
Bolt Diameter
Inside Diameter
Depth
Lumber Minimum Dimension
Weight Per 100 Pieces
Part Numbers
Ring In 1 Face
Ring In Both Faces
Plain
Galvanized
Plain
Galvanized
1⁄2
21⁄2
3⁄4
1 x 31⁄2
11⁄2 x 31⁄2
27
28
18683
18684
3⁄4
4
1
1 x 51⁄2
11⁄2 x 51⁄2
68
70
18685
18686
Grooving Tools for Split Rings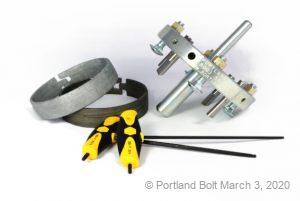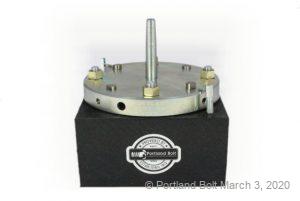 A complete grooving tool consists of a cutter head and a pilot. The pilot is divided (for descriptive purposes) into three parts: the "shank" is the upper part, the "shaft" (sometimes called the hub) is the central part, and the "pilot" is the lower part. The shank fits into the chuck of a drill; the shaft fits into a hole in the cutter head; the pilot goes into a previously bored hole in the timber, which positively centers the ring.
Grooving Tool Sizes
| Tool Number | Split Ring Size | Grooving Tool Part Number | Replacement Blade Part Number |
| --- | --- | --- | --- |
| 301 / TSR64 | 21⁄2" | 18644 | 18649 |
| 302 / TSR102 | 4" | 18645 | 18651 |
Spike Grids
Spike grid timber connectors are engineered to enhance joint strength and rigidity while at the same time simplifying assembly procedures. Timber structures in which spike grid connectors are utilized include decks, pole frame buildings, pilings, wharves, and bridges or trestles. They are also used to advantage in the construction of pole-supported "building platforms" for conventional building of homes, resort buildings and other structures situated on hillsides as well as over or near water. Flat spike grids are used between sawn timbers, while single curved spike grids are used between round piles or poles and sawn members. Spike grids are manufactured from malleable iron in accordance with ASTM A47 grade 32510.
Spike Grid Dimensions
Type
Part Number
Finish
Size
Depth
Bolt Hole Dia.
Bolt Dia. Max
Lumber Min. Dimensions
Grid in One Face
Grid in Both Face
Flat
18687
Black
4-1/8" x 4-1/8"
1"
1.06"
1"
1-5/8" x 5-1/2"
2-5/8" x 5-1/2"
18688
Galv
Single Curve
18681
Black
4-1/8" x 4-1/8"
1.38"
1.06"
1"
1-5/8" x 5-1/2"
--
18682
Galv